Bubblemaker 8 years+
Youngsters can join in the family fun of scuba diving or even start a trend! Children should be comfortable in the water, but they don't have to be super swimmers. With youngsters in mind, the maximum depth is only 2 meters/ 6 feet.
Typical sessions last about an hour (sign up, gear up and fun included)
Also available as a confined open water experience (2 meters/ 6 feet max. depth)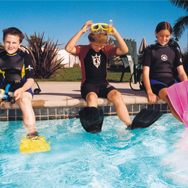 What You Learn
Kids get a chance to:
Experience what scuba diving is like under the direct care and supervision of PADI Instructors
Take their first breath underwater
Learn about and use scuba diving equipment made for children - not adults
Discover Scuba Diving
The Cost: $69.00
Have you ever wondered what it's like to breathe underwater. If you want to find out but aren't quite ready to take the plunge into a certification course, Discover Scuba Diving will let you try scuba to see if you like it. Most PADI dive shops offer a version of this program, either in a pool or other body of water. You might try it close to home or while you're on vacation.
While not an actual scuba certification, during the Discover Scuba Diving experience you'll learn how to use scuba equipment in shallow water and get a quick and easy introduction to what it takes to explore the underwater world.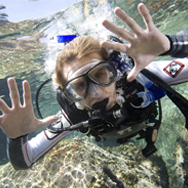 The Fun Part
There is nothing like breathing underwater for the very first time. It takes a little getting used to -after all, human beings weren't designed to do that - but after a few minutes of awestruck wonder, most participants realize how easy scuba diving really is. The biggest challenge instructors have with the Discover Scuba Diving program is not coaxing participants into the water, but coaxing them out when the program is over. The fun part? It's all fun!
Plus, you can get credit! If your Discover Scuba Diving program includes an actual scuba dive in open water, your experience may count toward PADI Scuba Diver or Open Water Diver certification, putting you a step ahead of the game when you decide to go for it
What You Learn
You learn the basics you need to dive under the direct supervision of a PADI Professional. One thing you'll learn is that you really can breathe underwater and whether you like doing that or not. You will:
Learn what wearing scuba equipment feels like and how easy it is to move around underwater while wearing it
Find out what it's like to breathe underwater and learn whether you can be comfortable there
Learn some basic skills and safety rules that will carry over to your full scuba certification course when you take the next step
Discover Snorkeling
Love the water but are not ready to learn to dive yet. Get your feet wet in the PADI Discover Snorkeling program. Learn how to properly use a snorkel and fine to explore.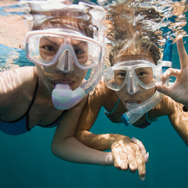 Sing Up NOW!
Check out our events page to see when the next course is bing offered then contact us to sign up. Don't see this class listed, don't worry, contact us and we can set it up.